CLIENT NAME: Bryan C. DV SETTLEMENT: $ 8,692.01
|
CLIENT NAME: Jamie B DV SETTLEMENT: $ 4,000.00
|
CLIENT NAME: Jorge R. DV SETTLEMENT: $ 4,500.00
|
CLIENT NAME: Benedict F. DV SETTLEMENT: $ 4,641.92
|
CLIENT NAME: Kenneth D. DV SETTLEMENT: $ 5,791.03
|
CLIENT NAME: Jocelyn F. DV SETTLEMENT: $ 6,000.00
|
CLIENT NAME: Francisco O. DV SETTLEMENT: $3,791.18
|
CLIENT NAME: Ivelisse R. DV SETTLEMENT: $ 4,202.00
|
CLIENT NAME: Kenneth D. DV SETTLEMENT: $ 6,716.54
|
CLIENT NAME: Rachel M. DV SETTLEMENT: $ 4,792.36
|
CLIENT NAME: Leroy Z. DV SETTLEMENT: $ 4,500.00
|
CLIENT NAME: David S. DV SETTLEMENT: $ 4,100.00
|
CLIENT NAME: Ian D. DV SETTLEMENT: $ 5,708.54
|
CLIENT NAME: Susan G. DV SETTLEMENT: $ 4,800.00
|
CLIENT NAME: Daniel W. DV SETTLEMENT: $ 6,001.63
|
CLIENT NAME: Terrance D. DV SETTLEMENT: $ 4,000.00
|
CLIENT NAME: Clinton W. DV SETTLEMENT: $ 5,500.00
|
CLIENT NAME: Antonio C. DV SETTLEMENT: $ 4,507.43
|
CLIENT NAME: Leonid K. DV SETTLEMENT: $ 4,000.00
|
CLIENT NAME: Dennis Z. DV SETTLEMENT: $ 4,936.34
|
CLIENT NAME: Jason D. DV SETTLEMENT: $ 6,402.00
|
CLIENT NAME: Ramon V. DV SETTLEMENT: $ 5,236.00
|
CLIENT NAME: Roxine H. DV SETTLEMENT: $ 4,564.37
|
CLIENT NAME: Diane G. DV SETTLEMENT: $ 4,500.00
|
CLIENT NAME: John D. DV SETTLEMENT: $ 4,000.00
|
CLIENT NAME: Elizabeth f. DV SETTLEMENT: $ 6,000.00
|
CLIENT NAME: Alejandro B. DV SETTLEMENT: $ 5,225.00
|
CLIENT NAME: Kip A. DV SETTLEMENT: $ 4,413.75
|
CLIENT NAME: Clinton W. DV SETTLEMENT: $ 5,500.00
|
CLIENT NAME: Arthur L. DV SETTLEMENT: $ 4,000.00
|
CLIENT NAME: Kenneth P. DV SETTLEMENT: $ 6,000.00
|
CLIENT NAME: Jamie N. DV SETTLEMENT: $ 4,000.00
|
CLIENT NAME: Frederick G. DV SETTLEMENT: $ 20,760.00
|
CLIENT NAME: Charles B DV SETTLEMENT: $ 4,500.00
|
CLIENT NAME: Hansel F. DV SETTLEMENT: $ 4,000.00
|
CLIENT NAME: Jonathan B. DV SETTLEMENT: $ 5,964.66
|
CLIENT NAME: James C. DV SETTLEMENT: $ 6,157.21
|
CLIENT NAME: Qinwei Y. DV SETTLEMENT: $ 4,500.00
|
CLIENT NAME: Erik S. DV SETTLEMENT: $ 5,500.00
|
CLIENT NAME: Lynne H. DV SETTLEMENT: $ 5,512.08
|
CLIENT NAME: Christopher C. DV SETTLEMENT: $ 4,000.00
|
CLIENT NAME: Zackary M. DV SETTLEMENT: $ 4,500.00
|
CLIENT NAME: Joseph D. DV SETTLEMENT: $ 5,000.00
|
CLIENT NAME: Jonathan B. DV SETTLEMENT: $ 5,964.66
|
CLIENT NAME: Maykel M. DV SETTLEMENT: $ 4,000.00
|
CLIENT NAME: Yan G. DV SETTLEMENT: $ 6,000.00
|
CLIENT NAME: John M. DV SETTLEMENT: $ 4,000.00
|
CLIENT NAME: Cory M. DV SETTLEMENT: $ 5,000.00
|
CLIENT NAME: Boris B. DV SETTLEMENT: $ 4,000.00
|
CLIENT NAME: Jennifer H. DV SETTLEMENT: $ 6,200.00
|
CLIENT NAME: Sudhir N. DV SETTLEMENT: $ 4,500.00
|
CLIENT NAME: Kent F. DV SETTLEMENT: $ 8,250.00
|
CLIENT NAME: William J. DV SETTLEMENT: $ 5,000.00
|
CLIENT NAME: Kamilah W. DV SETTLEMENT: $ 4,000.00
|
CLIENT NAME: Roberto R. DV SETTLEMENT: $ 6,000.00
|
CLIENT NAME: Benjamin B. DV SETTLEMENT: $ 4,500.00
|
CLIENT NAME: Georgia W. DV SETTLEMENT: $ 6,657.00
|
CLIENT NAME: John M. DV SETTLEMENT: $ 4,000.00
|
CLIENT NAME: Benjamin B. DV SETTLEMENT: $ 4,500.00
|
CLIENT NAME: Janos S. DV SETTLEMENT: $ 4,000.00
If you were in an automobile accident and your vehicle was damaged and repaired,
YOUR CAR IS PROBABLY WORTH LESS money than before the accident.
If the accident was caused by the other driver's negligence, the AT-FAULT DRIVER or
their insurance company may be liable to pay you for your vehicle's lost value.
This loss in value is known as Diminished Value (DV).
Amloss claims & Arbitration, LLC is licensed and bonded with the Florida Department of Financial Services. We are an all lines public adjusting company representing the policy holder not the insurance company. For over 15 years we have helped over 5000 clients and recovered tens of millions of dollars in property damage claims for policyholders.
We will negotiate, adjust and settle your Diminished Value claim with the At-Fault driver's insurance company.
We are only paid if we settle your claim.
No Recovery, No Fee.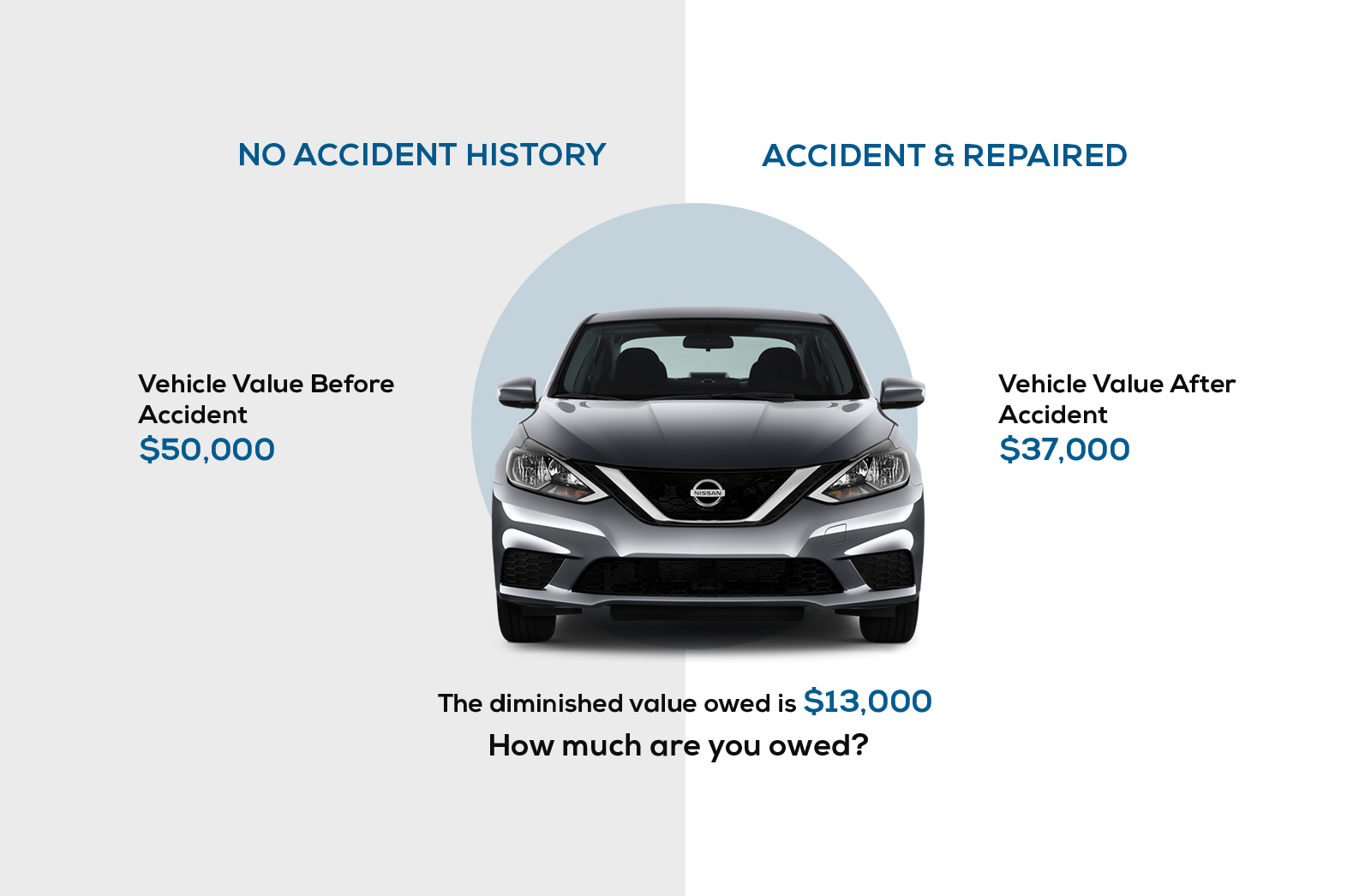 If You've Received
A NOTICE In The Mail,
Please Click Here To File Your Claim.
It takes less then 5 minutes to file.
(Unfortunately: If your vehicle was leased or a total loss, you are not eligible to file a claim.)

There is never a charge or a fee until we recover money for you.

Our Public Insurance Adjusters are Professionally licensed and bonded

We have recovered millions of dollars for clients in property damage claims
Many cases are settled in as little as 30 days
If you were involved in an auto accident and you were not at fault, you may be entitled to money for the lost market value of your vehicle, also known as diminished value.
When you buy a used vehicle, one of the first questions you ask is… "has this car ever been in an accident?" When you sell your car or trade your car in, the first question the dealer or prospective buyer asks you is…"has this car ever been in an accident?"
If your car has been in an accident, it has a damage history on CARFAX and AutoCheck. This negative rating lowers the value of your car. If the accident was the other drivers fault, You may be entitled to recover money for the lost market value of your vehicle.
Amloss will represent you and recover the
money that you are owed from the at-fault driver's insurance company.
Get started today by getting a free estimate.
Just a few minutes of your time can help you recover thousands of dollars.